What does it mean when technologists say "you can code anything"? In her inaugural article for The IO Foundation, Maryam Lee shares her thoughts on why human rights perspectives have the potential to move technological innovation to greater heights. She also argues that people do not need to choose between enjoying the latest technologies and human rights, and how they both could co-exist in our lives.
Maryam writes:
"Principles of human rights as the ones stipulated in the Universal Declaration of Human Rights may be misunderstood as limiters to technological innovation. In reality, we do not have to give up our fundamental rights to enjoy advances in tech. It is more than possible to imagine a world where human rights and technological innovations co-exist, it is in fact already happening."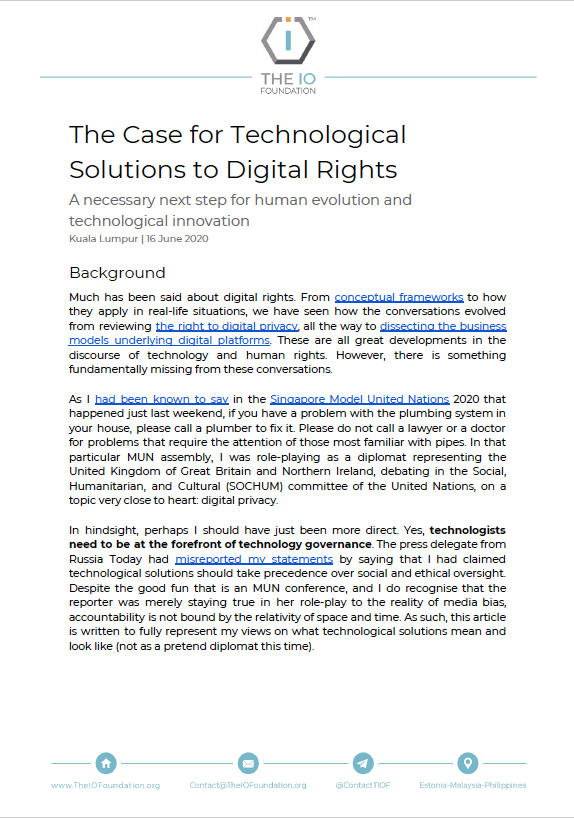 Maryam Lee is Strategic Program Manager at The IO Foundation. She oversees projects and activities designed to prepare technologists in the next step of technological innovation, which inevitably means building technologies that protect and respect human rights by design. With over a decade of experience in human rights work and advocacy, she brings in the perspectives of a human rights worker to the technology sector, applied thoughtfully by considering the multifaceted aspects of digital realities. Her work is evidence that the future is indeed multidisciplinary.